The Graham Hart Show will be Streamed Live Tonight on this Monday, October 23rd from 6-8pm eastern. Graham will be once again joined by Brian aka "Brizer" and His featured guest will be Miriam Al-Fatah - A Libyan activist residing in Southern Europe, who has just returned from Tripoli.

Tuesday, November 11, 2014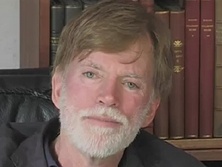 Dr. David Duke has a great show today which includes a discussion of one of the greatest and most popular writers of all time and the publishing of the 100th anniversary edition of one of London's last novels which is a metaphor of the Jewish extremist takeover of European nations. The book is called The Mutiny of the Elsinore and it is about a European man who stymies a Jewish led mutiny on a Western Clipper ship and in doing so rediscovers his own manhood and the roots of his heroic heritage. An inspiring book that is now being published by David Duke and it includes a lengthy introduction of Jack London, with pictures which will inspire every reader. In the last part of the show Dr. Duke is joined by Dr. Slattery and they discuss London and they discuss the shifting of American public opinion away from Israel! An inspiring show and one to savor and share!
David's site
Rense Archive
56k CF
Download
Posted by zapoper
at 1:39:00 PM
6 comments: