The Graham Hart Show will be Streamed Live Tonight on this Monday, October 23rd from 6-8pm eastern. Graham will be once again joined by Brian aka "Brizer" and His featured guest will be Miriam Al-Fatah - A Libyan activist residing in Southern Europe, who has just returned from Tripoli.

Friday, November 15, 2013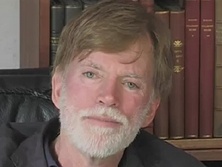 Today: Kay Whalen filled in for Dr. Duke and opened with a discussion of an article on how the Zio-Media Suppress News of Rampant Pedophilia in Orthodox Jewish Community and how that contrasts with the treatment of the same issue within the Catholic Church. Then she brings on Dr. Patrick Slattery for a discussion of this subject as well as the Jewish medical establishment's role in promoting circumcision and all the possible negative consequences of circumcision on the individual and society as a whole. They discuss the correlation between a country's warlike behavior and the prevalence of circumcision in that society. They continue with a conversation on the right of a society to model itself according to its own ethics and morality, but how Jewish supremacists are constantly undermining the ethical and moral standards of the majority of our population. Finally, the note that, regarding homosexuality, the Jewish supremacist establishment goes way beyond simply accommodating the needs and interests of those with an inborn predisposition towards homosexuality but actually promote that behavior as a model for everyone, despite the well documented medical and psychological problems associated with it.
David's site
64k CF
Download
Posted by zapoper
at 6:04:00 PM
No comments: