The Graham Hart Show will be Streamed Live Tonight on this Monday, October 23rd from 6-8pm eastern. Graham will be once again joined by Brian aka "Brizer" and His featured guest will be Miriam Al-Fatah - A Libyan activist residing in Southern Europe, who has just returned from Tripoli.

Tuesday, November 12, 2013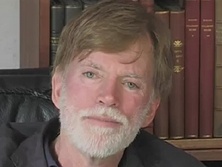 Today: Dr. David Duke is joined by Dr. Patrick Slattery. The first part of the show deals with a massive Jewish Holocaust fraud that was revealed in New York where tens of millions of dollars were stolen by Jewish supremacists who created fake victims of the Holocaust. Not surprisingly, this incredibly incendiary story was greatly suppressed in the Jewish controlled media but big news in the Jewish community. Then Dr. Duke and Dr. Slattery talk about the latest negotiations with Iran on their nuclear energy program and the incredible hypocrisy of our policy toward Iran in comparison with that of Israel, a rogue nuclear state that has some government officials who even threatened other nations with nuclear annihilation. This show really looks into Jewish hypocrisy and their methods of manipulating Gentiles.
David's site
64k CF
Download
Posted by zapoper
at 12:24:00 PM
No comments: